Upgrade Your Organization's Paging System with IP-based Technology
Schools, factories, warehouses, businesses, hospitals, hotels, airports - they all use mass notification systems. For organizations who have migrated to VoIP environments, deploying an IP paging system is critical to ensure voice paging is effectively integrated and enabled within their VoIP system.
With IP-based paging, more features can be accessed, and more actions can be achieved compared to analog paging. IP Paging allows sending messages to a group of interested receivers in a single transmission, using the method called Multicast, which makes the process of sending notifications very efficient. While IP paging systems may seem complicated, deploying IP paging is as simple as installing IP phones.
Partners can benefit from a lot of the paging products included in our portfolio and many of them don't even think about what they're going to do with the analog paging system that has been installed for so long at the customer location. At ABP we include paging products that facilitate legacy migration to VoIP, IP equivalents to existing analog devices, and application specific endpoints that add new functionality.
CyberData IP paging products include paging gateways, IP speakers for indoor and outdoor use, IP microphones, paging amplifiers, paging zone controllers, strobe lights and IP bell devices, all cost-effective and easy to manage solutions for IP voice paging systems.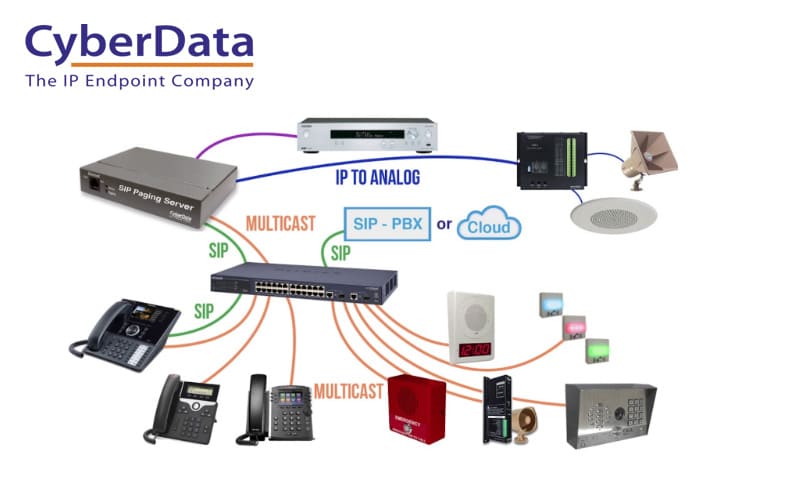 Fanvil, a manufacturer of IP solutions, brings some products to this area. They include different options of paging gateways, for media streaming, setting a variety of functional interfaces in one: broadcast, recording, intercom, security. Fanvil PA2 paging gateway is especially designed for the application of public emergency intercom with input and output interfaces. Connected to infrared probes and switches, it can trigger barrier rods, making it a complete access control solution. Fanvil PA3 has been designed for public broadcasting applications, as it includes an USB port and a TF card interface, where it can save audio files. Additionally Fanvil recently introduced a SIP ceiling speaker unit to their list of products.
Grandstream offers paging functionality devices ideal for different indoor environments, allowing businesses to build powerful paging solutions that expand communication and add security.

Snom includes a paging gateway for use as SIP announcement and with public address systems. It includes an integrated 6.5-watt high-performance amplifier that can provide HD audio announcements in large rooms, or background music with a 600-ohm loudspeaker system. Snom recently has launched their newer version, the PA1+ which is controllable from any SIP phone or a central source, thanks to the supplied cable harnesses with the freely configurable relay contacts that can be activated via SIP or DTMF, doing possible to control a variety of devices by a current pulse, e.g. a garage door or an electric door latch. Security plays an increasingly important role, which is why the Snom PA1+ uses the ultimate standards, such as SHA2.

Our partners will appreciate a single spot to buy items that are tested to work well together, and complete the IP solution that they offer to their customers. And the majority of these IP terminals are certified and standardized to be used with several of the major IP-PBXs including 3CX.