DALLAS, JANUARY 23, 2023 - IPTECHVIEW Inc, a leading provider of Remote Management solutions for intelligent IP endpoints and business security cameras, is proud to announce that it has been awarded the "Cybersecurity Award" by Security Today. The award recognizes IPTECHVIEW's commitment to providing innovative and effective cybersecurity solutions to protect businesses and organizations from cyber threats.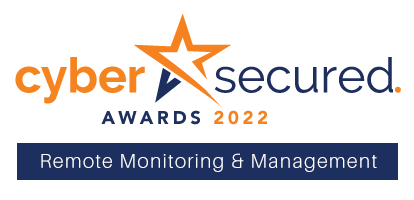 Security Today, the premier media outlet for security professionals recognized IPTECHVIEW for its cutting-edge technology and dedication to helping companies safeguard their business security cameras and other IP-based devices and provide secure remote management. The award was presented at the annual Security Today Awards ceremony, which honors the best in the industry.
"We are honored to be recognized by Security Today as the leader in cybersecurity," said Robert Messer, CEO of IPTECHVIEW. "We are committed to providing the highest level of security to our clients, and this award is a testament to our team's hard work and dedication." 
IPTECHVIEW offers a suite of cloud-based VSaaS services, including video surveillance, video intercom & access control and, remote management and, remote end-point Health Monitoring, secure remote configuration management. Its products and services are designed to help companies of all sizes to securely remotely access their IP Technology solutions while protecting their networks and data from cyber threats.
The company will continue to advance its mission of making security solutions for wide organizational adoption by making them simple to use with security by design at its core.
About Security Today
Security Today is the premier media outlet for security professionals, providing the latest news, insights, and analysis on the industry. As the go-to resource for security professionals, the publication covers all aspects of the security industry, including physical security, cyber security, and the convergence of the two. Security Today is the official media partner for many leading security industry events and trade shows, and its editorial team is comprised of experienced security journalists and industry experts.
About IPTECHVIEW, Inc.
IPTECHVIEW, Inc. is a leading provider of cloud-based video surveillance and other SaaS solutions for communication, physical security, and on-premise network infrastructure management. With a focus on innovation and customer service, the company operates globally with a headquarter in Dallas and has deployments in more than 15 countries and 2,000 locations since October 2017. IPTECHVIEW, Inc. servers are located in multiple regions in the US and Europe to provide a reliable and efficient service. For more information, please visit our website at http://www.iptechview.com or connect with us on Twitter @iptechview.